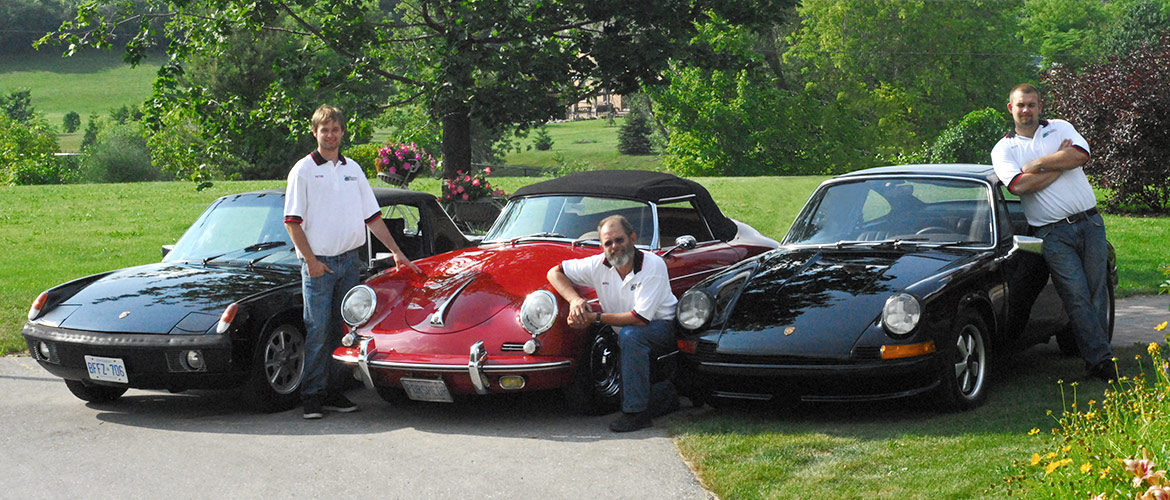 Our History
Restoration Design was established in the late 1980's. Originating from Eaton Rapids, MI. The deJonge family acquired the business in 2009 when they were having difficulties sourcing accurate replacement panels for their own restorations.
Restoration Design, now based in Guelph Ontario, is a manufacturing facility producing high quality rust repair and complete replacement panels for vintage Porsche automobiles.
Buy with confidence from the people who actually make what they sell!
Shop Quickly & Securely Online - our entire product catalogue is updated daily.
Hundreds of Items Ready to Ship - we have over 6000 parts in stock, ready for you.
Used panels and other parts stocked - contact us for more information.
Express Shipping Available - if you need a part quickly, we can arrange that!
Order online, by phone, fax, or mail.
In the past years we have been increasing our production of new parts for the 356, 911 and 914 models and are eager to hear from the Porsche enthusiasts what parts are most demanded in the community. In addition to new sheet metal parts we are also selling used original panels for the 356, 911, and 914, as well as mechanical parts. With over 600 unique parts in our inventory, there is something for everyone!
Restoration Design is striving to reproduce accurate parts for the 911, 914, and 356 from pristine panels. We are always looking for NOS (New Old Stock) panels to reproduce these parts to ensure the highest quality of replacement panels and also purchase quality parts for resale.
The classic Porsche community is small in number, but extremely diverse and constructive - Restoration Design respects this and gladly accepts any criticism, suggestions or part requests anyone may have. Perhaps your request will result in a new inventory part in the future! Contact Restoration Design here.
---
What Sets Us Apart...
Here at Restoration Design, we have many unique qualities that make us your best choice for custom panels. With a small staff, focused product line and an in-house manufacturing facility the benefits add up including:
We have the largest in-stock sheet metal inventory in the world. Manufactured in-house.
We make parts using a high-quality galvanneal steel that has proven superior rust prevention.
Our small, full time staff means you will always talk directly to a product manufacturer/designer when contacting us.
We ship on Tuesday and Thursday from within the USA, so parts are duty free, tax free and shipping is inexpensive. Express shipping available daily.
We stock many special, unique and low-demand parts that other manufacturers will not carry.
And of course: our prices are rock bottom - some of the best in the industry!
---
We Need You
In our quest to create high-quality aftermarket panels, we are always looking for pristine NOS (New Old Stock) pieces we can use to create and build our product line. If you have good quality Porsche panels in your basement or garage, we'd love to hear from you. Allowing us to 3D scan them would help us immensely to supply the demand of the parts that are no longer available.